Today after more than 5 years of development I have released the plug-in
Perfect Layout v1.0 for Finale/Windows
.
It is the most comprehensive plug-in ever written for Finale. The plug-in includes more than 300.000 lines of code, has native support for more than 450 music fonts, features more than 100 automated layout tasks and fixes numerous long-term issues in Finale. Perfect Layout has gone through a 9-month beta test with more than 50 beta testers.
It comes with an automatic installer for all supported Finale versions (2014-v26) plus automatic installation of 17 Maestro-compatible music fonts.
Among the 100 features of this monster plug-in you will find
-
collision removal
of most music symbols
-
automatic alignment
of expressions, articulations, hairpins, lyrics and many smart shapes
-
automatic visual balancing
and collision removal of staves and systems in score and extracted parts
-
improval of MusicXML
imported files and
old Finale files from the 90s
(including automatic expression category assignment and alignment correction)
-automatic
repeated measure numbering
for percussion/drum staves
-automatic
rest splitting and merging
according to the time signature
The plug-in works both as a "
1-click solution
" with many intelligent algorithms that automatically set the best parameters as well as with a very flexible and versatile user dialog with more than 200 parameters in the Gold edition.
More info:
https://elbsound.studio/perfect-layout/overview.php
Beta user feedback:
https://elbsound.studio/perfect-layout/feedback.php
Examples:
https://elbsound.studio/perfect-layout/examples.php
Demo videos:
https://elbsound.studio/perfect-layout/videos.php
117 pages PDF manual:
https://elbsound.studio/download.php?f= ... nualEN.pdf
The Mac version is still in development, but a
preview
is already available.
A few images from Elbsound.studio:
(The red measure numbers are not from Finale, but have been added afterwards for better visual reference)
The Gold edition user dialog: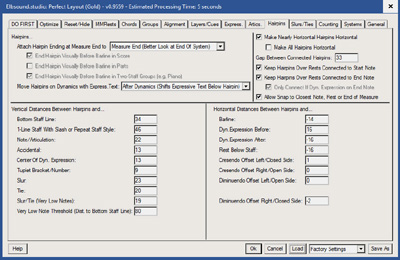 Automatic Staff/System Balancing:
According to a survey at the end of the beta test nearly half of the beta testers (44%) answered that the plug-in
saved them 25% or more of their overall Finale working time
. 25% means one week per month - a huge time saver.
If you have any questions about the plug-in, let me know.
You can also test the plug-in by submitting Finale documents to Elbsound.studio. We will process them and return the results to you - for free.
We might add a free demo version in the future, but at the moment the "Send in your files" option is the only way to test.
Jan Angermüller
https://elbsound.studio